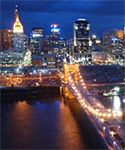 In his
American Notes
, Charles Dickens wrote: "The inhabitants of Cincinnati are proud of their city as one of the most interesting in America and with good reason." Then again, Mark Twain was quoted as saying: "When the end of the world comes, I want to be in Cincinnati because it's always twenty years behind the times."
As a destination for the world-weary traveler, Cincinnati is admittedly off the beaten track. And yet, its big-city-small-town feel has earned it the distinction as one of America's most livable cities. And so, nearly four hundred thousand people call it "home."
Cincinnati was settled in 1788, along the northern shore of the Ohio River, in that part of the Northwest Territory later to be named for that river. The city was laid out opposite the mouth of the Licking River, located on the Kentucky side to the south. One of the founders named it "Losantiville" -- the "L" standing for "Licking," the syllable "os" being Latin for "mouth," and "anti" meaning opposite. When the new terrorital Governor, General St Clair, arrived two years later, he was said to have asked, "What in the hell is the name of this town anyhow?" The plain-spoken general renamed it "Cincinnati," after the Society of the Cincinnati, an association of former Revolutionary War officers. Their name, in turn, came from Lucius Quintius Cincinnatus, hero and consul of Rome in the fifth century BC.