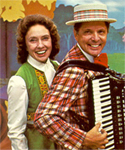 WLW Radio was a powerful voice in the American midsection, and homes across the nation were tuned in to 700 kilohertz. With an output of fifty thousand watts, and the distinction of being a "clear channel" station, everything from the big band sounds, to "hillbilly music," to news and farm reports, could be heard. From its Cincinnati studios, local talent such as Doris Day, Rosemary Clooney, and the Williams Brothers (one of whom was Andy, who later went on to recording and television), were enjoyed by millions, along with the guitar sounds of a boy from Tennessee named Chet Atkins.
In the early years of television, everyone was on the learning curve of this new technology, even the networks. Cincinnati was one of two cities that regularly supplied national programming for both ABC and Dumont. The "Saturday night barn dance" genre was brought to the screen by the "Midwestern Hayride," and local variety shows were hosted by such talents as Rosemary's brother Nick Clooney. One of the most curious and enduring of local programs originated with the local ABC affiliate, WCPO. A young art director named Al Lewis doubled as an entertainer of a children's program, dressed in his plaid jacket and straw hat, and playing an accordion. One day some children wandered into the studio, and onto the set of his show. Everything was live back then, so the producers kept the momentum going. Until retiring in 1989, "The Uncle Al Show" entertained two generations of Cincinnati youngsters (including Nick Clooney's son George, who is said have made his acting debut on the show at the age of seven).
On the other hand, Cincinnati also brought us Jerry Springer. Enough said.