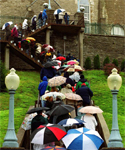 In December 1860, a Catholic church was completed on a bluff atop Mount Adams, and dedicated to the Virgin Mary. Since the hill was too steep for a horse-and-buggy, there were a series of wooden steps built as well, leading from St Gregory Street near the riverfront, on up to the church entrance. The following spring saw the start of the Civil War, and Immaculata Church became the site of devout Catholics praying the rosary for peace, while climbing the steps to its entrance. The tradition continues, as every year on Good Friday (a day when it invariably rains), an estimated ten thousand pilgrims climb the 85 steps -- the wooden ones having since been replaced by concrete -- leading to the entrance. The procession begins at midnight, with the parish priest's blessing of the steps, and continues for twenty-four hours.
From the vantage point at the entrance to "Saint Mary's of the Steps," one is treated to a spectacular view of what Winston Churchill once called "the most beautiful inland city in America." It also calls to mind the poem "Catawba Wine," by Henry Wadsworth Longfellow:
"And this Song of the Vine, this greeting of mine,
The winds and the birds shall deliver
To the Queen of the West, in her garlands dressed,
On the Banks of the Beautiful River."
In the shadow of this beautiful lady, this "Queen City of the West," life goes on.